CHILD COGNITIVE BEHAVIORAL SYSTEM
---
Avatar Pack Hanging Set
A System Children Can Hang On To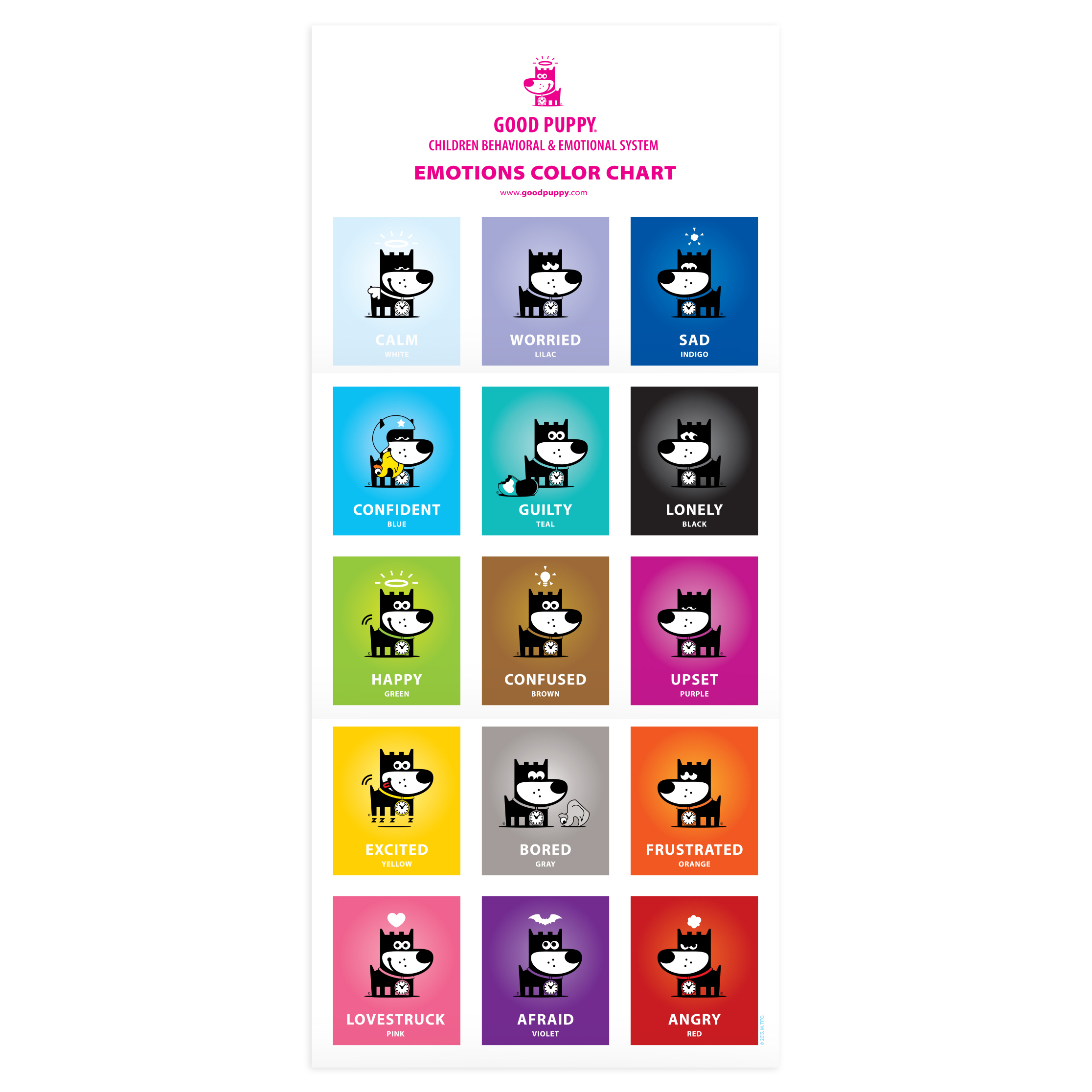 Manage group behavior.

Designed for groups of 2 to 20 children.

Easy to implement.

Congruent for home, school & therapy.

Based on positive reinforcements & incentives.

Multiple correspondences - colors, words, empathetic images & positions.

Inclusive of children suffering from Dyslexia, color blindness, ADHD, ODD and some dissociative disorders.

Recommended for children, ages 3 to 9.
INCLUDES
1 GOOD PUPPY Hanging Set . 4 Round Heavy Paper Stock Discs . 8 inch diameter + 2 Round Heavy Paper Stock Discs . 5 inch diameter

1 GOOD PUPPY Emotions Color Wall Chart . 11 x 24.5 inches

1 GOOD PUPPY Consequences Page . 8.5 x 11 inches

20 Standard Wooden Clips
All For One & One For All!
This simple tool allows for the management of group behavior. Perfect for classrooms, the system is designed with empathetic images and multiple correspondences, making it inclusive of children as young as 3 years old, as well as those suffering from dyslexia, color blindness, ADHD, ODD and some dissociative disorders.
The Child Behavioral Hanging Set includes a consequences page and an emotions chart. Start by establishing consequences for each of the four levels. Hang the emotions chart in an area children have easy access to. They will need this chart to help them recognize the emotions that drive them to making wrong choices, in order to understand themselves better and learn to curb their own behavior. Make sure all children have access to the emotions chart in order to study it at their leisure. Follow the instructions included and get the system implemented in a matter of minutes. You should start noticing child behavior improvements as soon as all children understand the game. Consistency at following consequences will ensure long term success!